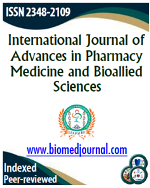 Jan-Apr 2022
Volume 10 | Issue 1
Page Nos. 1-27
Online since Saturday, Apr 30, 2022.
---
ORIGINAL RESEARCH ARTICLES
Gastrointestinal helminths infection of Rattus norvegicus (brown rats) from Pakistan.
Arsalan Rasheed, Malaika Noor, Bakht Beland, Zahid Mehboob, Abrar Hussain, Syed Anees Ali5, Laila Aziz, Hamid Mehmood, Noor ul Akbar, Nargis Sardar, Muhammad Sajid.
SHORT COMMUNICATIONS
Improving the long-term storage stability of all-trans-retinol in biological matrix.
Farah Anjum, Alaa Shafie, Mohammad Naime, GS Toteja, Shakir Ali.
CASE STUDY
Clinical evaluation of unani formulation "Majoon ushba and Marham- e-gulabi with Roghan-e-babchi" on Pemphigus vulgaris: A case report.
Nabeela Sultan, Shagufta Aleem, Mohammad Shoaib, Mohammad Anas.
REVIEW ARTICLES
Zaj-e-Abyaz (Alum) an Important Styptic drug of Unani Medicine: Review.
Mustehasan, Sofia Naushin, Misbahuddin Azhar.