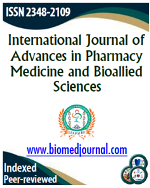 Jan-Apr 2021
Volume 9 | Issue 1
Page Nos. 1-36
Online since Wednesday, May 02, 2021
---
ORIGINAL RESEARCH ARTICLES
Study of the Quality of Life (QOL) of hypertensive patient using WHO-QOL-BREF questionnaire in Tertiary Care Hospital.
Shaikh Mohammed Ishaque A Hamid, ND Karnik.
Management of Acne Vulgaris (Busoor-e-Labaniya) in Unani Medicine- A Concise Review.
Qutubuddin Khan, Mahboob us Salam.
REVIEW ARTICLES
Pattern of Pulse (Nabz) in different temperament (Mizaj).
Sabahat Afreen, Aslaaf Shaikh.
Review of Phytopharmacology of Habbul Aar-Aar (Juniperus communis L.): An Important Unani Drug.
Misbahuddin Azhar, Sadia Ayub.
Pathophysiology and Pathogenesis of Covid-19: What We Know Today.
Anees Akhtar, Mohammad Hifz Ur Rahman, Shahnawaz Alam, Mohd. Aslam, Mohd Suhaib, Javed Akhtar Ansari, Mohd Najmul Aqib Khan.
An ethno-botanical review of seeds of Cucumis sativa (Maghz-e- tukhme khiyarain) from Unani Medicine and its Pharmacological Updates.
Sana Rehman, Mohammad Imran.