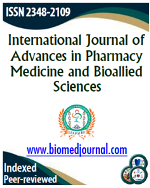 May-Aug 2021
Volume 9 | Issue 2
Page Nos. 37-67
Online since Wednesday, Sep 01, 2021
---
ORIGINAL RESEARCH ARTICLES
Trends in Basic Emergency Medical Care Knowledge among Students Starting Professional Paramedic Program.
Awais Ahmed Abrar Ahmed, Faiyyaz Shaikh.
Gentamicin Induced Nephrotoxicity: an Approach of Nephroprotection by Asgand.
Farhan Akhtar, Misbahuddin Azhar, Mohd Aslam, Kaleem Javed.
CASE STUDY
Palmar Plaque Psoriasis Successfully Treated with Unani Medicine: A Case Study.
Zamir Ahmad, Misbahuddin Azhar, Mustehasan.
REVIEW ARTICLES
Effectiveness of Inkibab (steam inhalation therapy): A Scientific Review.
Abdul Hameed Ayshah Fazeenah.
Medical Importance of Aabnoos (Diospyros ebenum Koeing): A Review.
Misbahuddin Azhar, Mustehasan.