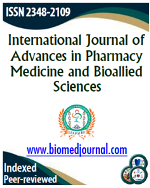 Jan-Apr 2023.
Volume 11 | Issue 1.
Page No. 1-16.
Online since Sunday, Apr 30, 2023.
---
ORIGINAL RESEARCH ARTICLES
Exploring the diuretic activity of Bisehri booti (Aerva lanata): an efficacious medication for nephrological disorders.
Suhail Ahmad, Mohammad Zaki Ahmad, Mohd. Wajeehul Qamar, KM Yusuf Amin, JA Ansari.
REVIEW ARTICLES
Revolutionary nanocarriers for novel drug delivery system of antipsoriatic drugs: a recent approach.
Shivani Singh Chauhan*, Vikash Srivastava, Amresh Gupta.