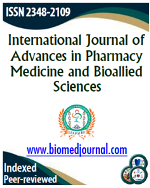 Sep-Dec 2022
Volume 10 | Issue 3
Page Nos. 94-153.
Online since Sunday, December 31, 2022.
---
ORIGINAL RESEARCH ARTICLES
Development of a new isolation technique and validated RP-HPLC method for Quercetin and Kaempferol from Camellia sinensis leaves.
Sudhakar Chaurasiya, Narendra Pratap Singh Sengar, PD Mehta, J Banweer, Swapna Sahu.
Evaluation of Bisehri booti (Aerva lanata) for anti-inflammatory, analgesic and steroidal activities.
Suhail Ahmad, Mohd. Wajeehul Qamar, Mohammad Zaki Ahmad, KM Yusuf Amin, JA Ansari.
REVIEW ARTICLES
A comprehensive review on fast dissolving pantoprazole tablet: a promising approach for drug delivery.
Nitish Gaur, Rajan Kothari, Vikas Jauhari.
Quality by design in pharmaceutical industries: a review.
Monali Bora, Vishal Rasve, Poonam Ghorpade, Mahesh Kshirsagar, Kalpesh Tated.
Izkhir (Lemongrass): an overview of scientific basis of its pharmacological activity.
Bushra Suraiya, Suhail Ahmad, Mohd Wajeehul Qamar, Md Mahfoozur Rahman, Nirbhay Kumar.
Recent advancement of carbazole hybrid: a privileged scaffold in new drug discovery.
Manu Tripathi, Shweta Shukla, Meera Kumari, Amresh Gupta.
A significant role of artificial intelligence in novel drug delivery system and drug design: A recent approach.
Pooja Chaurasiya, Meera Kumari, Priyanka Bajpai, Amresh Gupta, Om Prakash.